Experience:

Camps, Legacy Speaker, Resistance

Country of Origin:

Netherlands
Daughter of Dutch survivor of Auschwitz, Ine-Marie van Dam shares her mother's story.
Ada van Esso was born in Meppel, Holland to a Jewish family. When she was a young girl, the family moved to Amsterdam because they wanted to be in an area with a larger Jewish population, and to be farther from the German border.
After World War II began, Ada's father planned for the family to escape Holland. He bribed officials to help them escape, but the family was betrayed. They were sent to a prison in Berlin, and then deported to Auschwitz in 1943. While in Auschwitz, Ada was assigned to work in the Nazis laundry room. In 1945 the Nazis forced Ada and the other remaining prisoners to evacuate Auschwitz in order to keep the prisoners from falling into the hands of the All ies. These evacuations became known as "death marches" because of the brutal conditions. She was liberated at Ravensbrück Concentration Camp and taken to Sweden to recover.
After the war, Ada returned to Holland and married Hans van Dam. Ine-Marie van Dam was born in Holland several years after, and grew up on the Dutch Caribbean island of Curaçao. Ine and her family moved to the Pacific Northwest at age 9. Fascinated by language and cultural diversity, Ine says she dreamed of living, studying, and working abroad.
Ine is fluent in a number of languages. She works as a conference interpreter, and has taught translation and inter pretation at various colleges. In 2019, Ine began presenting the story of her mother's Holocaust survival as a Legacy Speaker with the Holocaust Center for Humanity, utilizing video testimony, photos, maps, and other primary source documents.
Ada lives in Seattle in an assisted living facility. Ine visits her often from her home in Centralia, WA, and still speaks to her mother in Dutch.
Photo: Ine-Marie van Dam with her mother Ada.
Experience:

Escape to Shanghai

Country of Origin:

Germany
Henry Haas was born to two Jewish families in Berlin Germany on April 8, 1938. In July, 1938, his parents Ivan Hans Haas (later John) and Gerda resolved to escape but had no way, literally, to immigrate to any country in the world. They fled for 12 months, traveling first to Slovakia, then the Czech Republic, Italy, Holland and France. Finally, in July 1939, with the assistance of a Jewish Refugee organization in Paris France, they were able to secure tickets on a ship to Shanghai, China. This was the only port in the world, which, from 1933 to 1941, admitted approximately 17,000 Jews. The Haas family ship journey took three weeks, traveling from Marseille, France to Port Said Egypt, through the Suez Canal to Djibouti on the horn of Africa, and eventually to the port of Shanghai. A city of 6 million at that time, the Haas family arrived in Shanghai without funds, in a temperature of 105 degrees Fahrenheit, and encountered an entirely foreign culture.

The following eight years were spent under Japanese occupation, living in an area that became the "Ghetto of Hongkew", with their home being a single small room – no bathroom, no toilet, and no kitchen.
In 1947, two years after the end of WWII, the family arrived as non-Englis h speaking refugees, in San Francisco. The Hebrew Immigrant Aid Society (HIAS), helped the Haas family to come to America. First they settled in Portland Oregon, then Centralia Washington, and, finally, in Tacoma Washington.

Kate, Henry 's wife, born and brought up near London, England, came to Tacoma at age nineteen for a visit and stayed. Kate Haas has written the Haas family story in great detail. Together, Henry and Kate, with the use of photos, maps, and historic family documents, tell the story. Henry and his late mother Gerda, who live d to age 98, told this story for many years to school classes and other groups in the Tacoma area. Now, Henry has joined the speaker's bureau to further share this memoir of anti-Semitism, during the Holocaust.

Henry graduated from the University of Puget Sound and obtained a law degree from the University of Washington in 1962. He continues practicing law to this day.
Experience:

Hiding, Rescue

Country of Origin:

Poland, USSR
Henry Friedman was born in 1928 to a Jewish family in Brody, Poland (present-day Ukraine). When the Nazis invaded Brody in 1941, they swiftly deprived Jews of their basic rights. One day in February 1942, a young woman named Julia Symchuck ran to the Friedman's house and warned Henry's father that the Gestapo was coming for him. Thanks to Julia, Henry's father was able to flee. In the fall of 1942, the Nazis forced the remaining Jews in the area into a ghetto in Brody. Henry, his mother, his younger brother, and their female teacher hid in a barn owned by Julia Symchuck's parents. The Friedmans remained in hiding for 18 months, freezing and slowly starving as food became scarce. Finally, in March 1944 they were liberated by the Russians. Julia Symchuck was later recognized as Righteous Among the Nations.
Henry helped found the Holocaust Center for Humanity in 1989 and is an active member of the Speakers Bureau.
"When I was in hiding, I feared I would be the only Jew who survived. A terrible empty feeling came over me at the loss of so many cousins, and I felt as though I were standing all alone in a huge stadium." - Henry Friedman
Survivor Encyclopedia: Washington State - Henry Friedman. Read more about Henry, view photos, and watch video clips.
Experience:

Refugee

Country of Origin:

Netherlands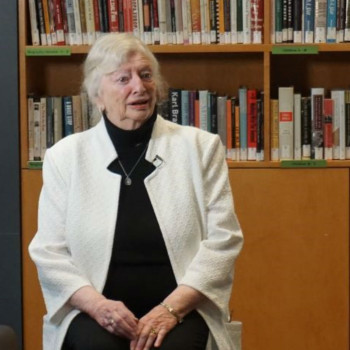 Harriet Mendels was born in the Netherlands to a large Jewish family that was assimilated into Dutch society. Harriet and her brother spent their childhood in the seaside town of Scheveningen, Holland.

Her grandfather Pierre, a journalist, traveled through Germany for business in the late 1930s and witnessed the rise and adoption of Nazism along with its antisemitic propaganda. He warned his daughter and son-in-law of the impending danger, urging them to leave Holland while there was still time. Reluctantly, they decided to follow his advice.

The Mendels family – Harriet and her parents, brother, and two aunts – were able to get exit visas from Holland. They also contacted a distant relative in the United States who provided an affidavit of sponsorship for the family. They left Holland and arrived in Hoboken, New Jersey, in May 1939.

Harriet grew up in New York, learning English and adjusting to a new life far from her home country. She was always aware that she was Jewish and occasionally encountered antisemitism in the United States.

Harriet is a mother and grandmother and has been a teacher, activist, local politician, and author. In 2018, aware of rising Holocaust denial, she decided to tell her story, and worked with the Holocaust Center to research her family history more in depth to become a member of the Center's Speakers Bureau.